Choose 3S
Compensation and Benefits
We offer competitive compensation and benefits package to attract, retain and reward hard-working and performance excellence employees.

Introduction
Fixed Pay:

Yearly salary for colleagues will be adjusted moderately based on employee's performance and company profitability.

Bonus Program:

We offer various bonus programs to reward employees for performance excellence that contributes to the success of the company. The payout is based on profitability, employees' contribution, and performance against corporate-defined goals.

Profit Sharing Bonus:

A portion of profit will be offered as extra bonus to encourage employees with good performance.

Insurance Program:

In addition to statutory labor insurance, national health insurance and national pension contribution, we provide group insurance considerately designed for employees. The group insurance covers life insurance, accident insurance, medical insurance, cancer insurance and so on for better protection of employees' life. We also provide high amount of travel insurance to protect employees who has overseas business trip.

Flexible Leave Program:

We provide better annual leave program than the Labor Standard Act, and with flexible floating holidays, employees are able to schedule vacation of the year. We also provide flexible working hour for our employees.

Health Care:

We provide health examination subsidy and employee assistance system to care our employees' health.

Retirement:

For employees' retirement planning, we contribute 6% pension funds based on related governance act monthly. Meanwhile, employees can join our Employee Stock Ownership Plan (ESOP) to purchase 3S stock for long term retirement preparation.
Working Environment
Outward meeting area and shoes cabinet
Green environment!
| | |
| --- | --- |
| | Accomplishments and Rewards! |
| | | |
| --- | --- | --- |
| | | Bright working area |
| | | Multi-function meeting room |
Cafeteria
| | | |
| --- | --- | --- |
| | | Great view from Cafeteria! |
| | | |
| --- | --- | --- |
| | | A cup of coffee can bring you energy and power~ |
Daily Activities
Annual Company Meeting
GM's Talk— face to face for better communication
Join 3S— New Employee Orientation~~
Workshop—knowledge share
pleasant party
Monthly pleasant party with delicious meal and relax atmosphere.
Ball Games
Various competitions to enhance team solidarity.
Year End Party
Great meal and lots of fun at the Year End Party!!
Family Day
Everyone can enjoy a good time on our Family Day!
Paint Ball Camp
Loach Catching
DIY Activity
Tea Leaves Collecting
Company Outing
Company outing is held yearly, either domestic or abroad. 
Macao
Kyoto
Penghu
Lanyu
Career Development
Performance management:

Communicated between employees and supervisor regularly, to discuss and review individual objectives and development plan.

Performance evaluation:

Individual performance will be evaluated every each end of year.

Development plan:

We have smooth rotation system and individual development plan to let employees gain valuable experience while contributing to the company.
Training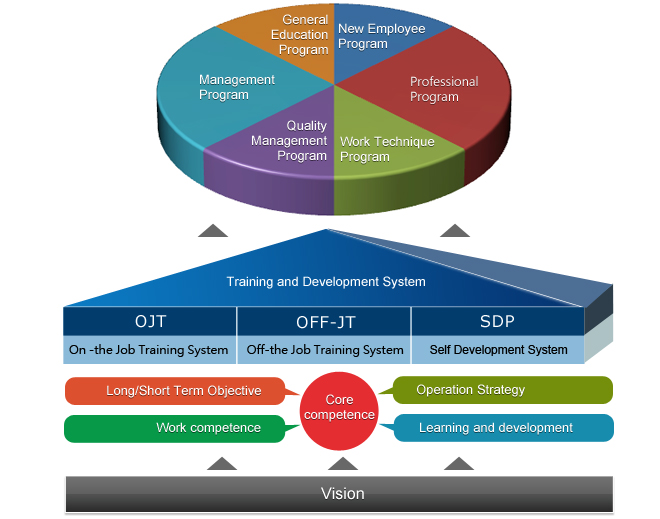 We greatly value employee training and development. At the moment they start their career at 3S, employees immediately receive abundant resources for training from 3S. In different stages, we adopt corresponding training plans to obtain the best results. Comprehensive training and development framework can increase employee competitiveness and employees can, at the same time, contribute reciprocally innovative knowledge and skills, benefiting employees, company, and even the entire industry.
According to company vision, operation strategy, the result of job analysis and individual development plan, we structure a company-wide training program that is based on 3S core competence. Our program is divided into the following 6 major categories:
Learning and development structure

New Employee Program

New employee program is prepared for new comers to adapt 3S working environment better.

Management Program

Based on different managerial level and company policy, we design various management programs for all managers.

Professional Program

We provide different professional program to enrich R&D capability.

Work Technique Program


We hold general technique program for all employees regularly, such as computer appliance software program.

Quality management Program


Quality management programs are designed to build up our employees' concept to maintain the highest level of quality standards for our product.

General Education Program
To help employees to build up their multi-channel learning, we structure general course regularly.


Multi-learning channel
On-Job Training




Learn one's professions on the job.

In-House Training




Participate in company-wide, annual training programs planned by HR.

External Training




Attending to seminar or related training program externally.

Web-Based Learning




Learn by utilizing resources from internet or the mass media, which is not restricted by time or space.

Self-Learning




Self-learning can be achieved through reading groups or participating knowledge sharing programs.